Entertainment at the campsite
In July and August, the entertainment team of our campsite, located in Ornans in Doubs and the Jura Mountains in France, offers a multitude of activities for your kids every morning and all day long (except Saturdays).
ACTIVITIES FOR KIDS AT THE CAMPSITE
Kids club (from 3 until 12 years old): from Sunday to Friday starting at 10:00 a.m. (July 7th until August 31th)
Environmental awareness
Learning garden
Treasure hunts
Archery
Acrobatic Parc
Bouncy castle
Playgrounds
ACTIVITIES FOR ADULTS AT THE CAMPSITE
Wellness area, sauna, hammam, Jacuzzi (additional charge)
Hikes starting at the campsite (GR590), Via Francigena (Canterbury-Rome pilgrimage trail)
Pétanque
Some thema's nights at the restaurant
Outdoor fitness area (free)
Farmer's market at the campsite every Tuesday (organic and local products)
Learning garden
DISCOVERY CLASSES
Enjoy the "wellness" and "botany" classes organised all season long with our partners: the Franche-Comté LPO (Bird Protection League) and the Les Plantes Compagnes association (see the announced dates). The Loue Valley is filled with enjoyment, right outside the campsite.
THE LEARNING GARDEN
A learning garden at the entrance to the campsite is open to everyone, come and visit as you please. Spend a few minutes discovering edible nature: all our plants are organic. No pesticides or chemicals are used, just real nature. We'd be happy to share our experiences with you.
THE LEISURE PACKAGE
For €5 per day or €35 per week for the whole family, the campsite provides the following leisure equipment:
Balls for pétanque
Table tennis and badminton rackets
Safety bows and arrows for archery
Fishing rods (fishing licenses available at reception)
Giant mikado game
All equipment is available at reception every day from 8:30 a.m. until 7 p.m. (equipment available for only one activity at a time).
KIDS CAMPINGS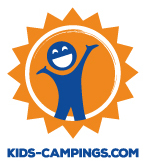 Your campsite in Doubs and the Jura has been selected by the website www.kids-campings.com as a campsite adapted for children. During the high season, discover a complete programme of activities from a multi-lingual team from the Team4Animation company, for an unforgettable holiday!
OUTDOOR ACTIVITIES DISCOVERING DOUBS AND THE JURA
Samuel, our partner from outdoor activity center, is ready and waiting with activities to discover such as canoeing, via ferrata, rock climbing and canyoning. Possible to meet directly at the campsite.
Disponibilités
Open from 03/04/2023 to 03/10/2023

EU Ecolabel : FR/051/038
camping nature

EU Ecolabel : FR/051/038