Our favourites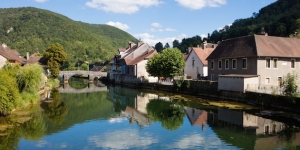 Find here ideas and good deals near the campsite from Céline and Etienne.
La Saucisse Ornanaise®
has become a must-taste of the Loue Valley.
This sausage is exclusively made at the Chez Marius butcher. Mild, lightly-smoked and lean, with its distinct and tempting plumpness and flavoured with black "horns of plenty" mushrooms, all making for a rare and unique taste: it's a pure delight for the taste buds. Reconnect with this absolute must of Franche-Comté gastronomy, as a starter, with sautéed potatoes topped with cancoillotte cheese, or simply on the grill.
And if you're not a fan of sausage, still take a trip to the butcher shop, just to meet the inimitable Marius and his brother. They will instantly brighten up your day.
Chez Marius, 21 rue Pierre Vernier 25290 Ornans (across from City Hall).
Châteauvieux-les-Fossés
is one of the least populated towns in France, with 7 permanent residents as of 2011.
Even so, the village contains rich architectural and natural heritage. Overlooking the town of Vuillafans and nestled in the fortifications of the former medieval castle, this village is a must-see sight for fans of calm, history and legends. A visit that's off the beaten track, just how we like them.
47° 03′ 54″ North, 6° 12′ 10″ East
Disponibilités
Open from 03/04/2023 to 03/10/2023

EU Ecolabel : FR/051/038
camping nature

EU Ecolabel : FR/051/038